Building a Digital Ecosystem for Societal Empowerment

Date: July 24, 2013
Jenny Huangr
Workshop Chair
Strategic Standards, AT&T Inc.
Director of Research, iFOSSF.org

Ken Homer
Workshop Facilitator
Founder Collaborative Conversation
Achim Karduck
Expert on Tap
Professor Furtwangen University

Mireille Cronin Mather
Expert on Tap
Executive Director Foundation
for Sustainable Development

Dr. Kouji Kozaki
Expert on Tap
Associate Professor Institute of
Scientific and Industrial
Research Osaka University

Dr. Osamu Saito
Expert on Tap
Academic Programme Officer
Institute for Sustainability &
Peace United Nations University

Tom Rausch
Expert on Tap
Program Manager Good
World Solutions

Hans A Kielland Aanesen
Expert on Tap
CEO EPR-forum
We are excited to bring you a thought provoking workshop for this year's conference,
The SEED Framework.
Traditional approaches to Social, Economic and Environmental Development (SEED) have historically employed a closed, top-down model in which problems are viewed narrowly and the input of local stakeholders is rarely sought. More recent efforts to address development from a holistic, multidisciplinary perspective—while a major step in the right direction—have been hindered by a lack of appropriate tools and well-defined processes to enable disparate resources to work effectively together towards common goals.
The SEED Framework, developed by iFOSSF (International Free and Open Source Solutions Foundation), is specifically designed to support locally-led innovation with self-organizing, multidisciplinary collaborations and, most importantly, to translate concepts and ideas into actions. Combining the strength of both structured and unstructured workforces, the framework employs an open, "coopetition" strategy that integrates existing standards and practices across multiple sectors, enabling a high-level, results-oriented collaboration with a deep awareness of the local culture.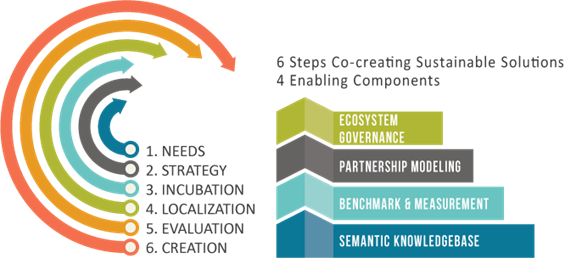 We are bringing together some leading researchers and practitioners in the field of sustainable development as "Experts on Tap" to both seed and guide this conversationally-based workshop. We recognize that a tremendous amount of wisdom and knowledge resides in the participants and we have designed this workshop to be highly participatory. The key components of the SEED Framework neatly dovetail with many existing DEST2013 tracks and the model provides an exciting and unprecedented opportunity to integrate participants' individual contributions within a greater whole.
Moreover, the six-step SEED process—incorporating needs identification, multifaceted research, team-building, investment strategy, and real-world results—both facilitates information flow and paves the way for new affiliations with businesses, NGOs, and other strategic partners. Successful projects can lead not only to new technology implementations and deployment, but new businesses, job creation, and curriculum development for education.
We envision the SEED Framework having the potential to shift industry and government investments toward more equitable and productive resource distribution globally and locally. With the aim of helping advance the science of sustainability in advanced ICT practice, participants will learn and co-create a new model of sustainable community development.